View Statistical Table/Graph
| | | |
| --- | --- | --- |
| Statistics name | Population Census 2020 Population Census Basic Complete Tabulation on Population and Households | |
| Table number | 1-1-3 | |
| Table title | Population in 2015 (readjusted), Number of households in 2015 (readjusted), Population change number for 5 years, Population change rate for 5 years, Number of households change number for 5 years, Number of households change rate for 5 years, Sex ratio, Area(reference) and Population density - Japan, Prefectures, Municipalities (including Municipalities as of 2000) | |
Select display item

Table Layout

Set graph display
Select display item
All items will be displayed initially. please follow the procedures below to change it.
Press

Select Item

to set the items.
When pressing

proceed

button, changed content will be updated and displayed.
Number of screen display cells:

Total screen cell count:

(A table is able to display 100,000 cells at a maximum.
A Graph is able to display 15,000 cells at a maximum.)

description
SN
Table element
Description
1/3

Tabulated variable

9

/

9

2/3

All Municipalities (including those as of 2000)

4086

/

4086

3/3

Time

1

/

1
Table Layout
To change the layout, press the following item names
and select "Top of Page" "Column" "Row" to move the items. To change the order of display, press
to adjust it. To save and display the changes, press
Set and refresh
.
1 Table Layout
Top of page (margin)
Top of page (margin)
Column
Row
Tabulated variable
Top of page (margin)
Column
Row
All Municipalities (including those as of 2000)
Top of page (margin)
Column
Row
Time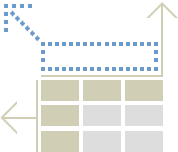 Number of screen display cells:
Total screen cell count:
(A table is able to display 100,000 cells at a maximum.
A Graph is able to display 15,000 cells at a maximum.)